Many young people would like to create their own business and start as independent workers instead of getting hired by already-established companies. There might be some advantages for starting your own business from little, although you should plan your business venture at least one year ahead. Even a business that is meant to sell and buy online only requires a lot of studies, effort, and time.
Funding With Digital Currency
One of the biggest concerns for young entrepreneurs is how they can fund their startups. There are several options including bank loans, private financing from investors, or business partners. So, nowadays, we live in a particular historical time where money isn't just made of metal or paper. Digital money is a new and largely growing reality that is going to transform the entire financial universe. You may want to use digital currency instead of your local currency for buying and selling items/services all across the world.
Are you new to digital currency? Briefly, consider that digital currency is a form of money available in the electronic (digital) form. For this reason, you can access your wallet of digital money only via internet-connected devices. Also, digital money doesn't require any intermediary, which makes it the cheapest way to trade currencies. Probably, not everyone knows that digital isn't synonymous with crypto which means that not all digital money is crypto. Finally, digital currency turns out to be much stable than local currencies, which is important for those who aim to use digital money for investment.
The World's Biggest 5 Digital Currencies
After the rise and diffusion of Bitcoin as the first digital currency, more currencies have been appearing in the markets. This proliferation of electronic money is probably responsible for their growth of value: about 10 times more than it used to be in the past years. One of the golden times for the boom of digital currencies happened between 2017 and 2018 when new digital currency names popped up in the financial markets. We can currently identify 5 of the world's most popular and used digital currencies: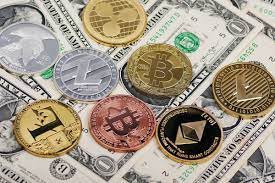 Bitcoin: Number one is, of course, Bitcoin. It's actually the original cryptocurrency and it still is a leading name in the field of digital money. The actual price per coin is $7,30 but it's expected to rise over time. Also, there is about 17.1 million Bitcoin in circulation as you can see from Market Cap specialistic site.
Ethereum: The second most diffused digital currency is Ethereum. It appeared later Bitcoin, but it's conquering large space in the markets. Although the market cap roughly reaches $50 billion, the trading price per token is $500. The tokens in circulation of this currency are 100.7 million.
Ripple: If you want to start your startup by using a digital currency, you may also be interested in Ripple. Its market capitalization may look shy with only $19.8 billion but if you look at its quick-rising history, you will see that Ripple promises very well. Although the value per token is about $0.50, the Ripple coins in circulation are 39 billion.
Bitcoin Cash: Bitcoin Cash is nothing but the spin-off of Bitcoin. The overall market of this digital currency is about $14.5 billion with a market price per token of $843. The total circulation of Bitcoin Cash is about 17.2 million. There's still so much to grow for this new digital currency, as you can see.
EOS: Finally, we can close our list of the top most popular digital currencies with EOS. This new currency has a market cap of about $7.83 billion for a total circulation of over 896 million tokens.
Digital Currencies Business Ideas For Startups
If you want to know how you can use digital currencies for your startup, consider that you may ensure self-funding to your business via cryptocurrencies or you may want to join a crowd-funding platform and get people's attention to your business, it will ensure finance to get started. Through digital currencies, you can access loans from providers of Microfinance, which helps individuals building solid capital for launching their startups.
Another way you can help your startup is by using digital currencies for trading or commercial activities all across the world. Finally, consider that bitcoin in casinos is widely diffused, especially during the latest years. People seem to prefer Bitcoin instead of local currencies to bet on sports and casino games, so they can transfer casino wins in Bitcoin to their digital wallet and feed their startup needs. So, what are you waiting for?
Test your casino and sports skills by placing your best online bet!